Pre-loading survey of Barley
January 30, 2022
In Argentina there are four growing regions for barley, three of them are situated in Buenos Aires province where the 90% of crop is collected while the southern part of the province collects the 40% of the total.
The last decade farmers together with the help of INTA (National Institute of Agricultural Technologies) achieved goals in respect of production (6,000 Kg/Ha), protein content and mainly as commercial parameter the kernel plumpness and its uniform size, etc.
Locally barley has been positioned as one of main commodities being annually increased the exported volumes. (As per Necochea Port Consortium 1/3 of port exportation is barley).
In view of the uprising market for the malting barley and being our company based at Necochea port (Buenos Aires province), one of best areas for growing this cereal we offer our service in preloading and loading supervision of cargo.
The scope of the preloading and loading supervision of malting barley mainly consist of determine the fitness of vessels holds to safe transport of the grain as well as to ensure that the customer quality standards are maintained during the voyage.
Starting from the loading terminal, the grain is visually inspected as far as permitted and sampled for laboratory analyses if necessary.
The inspection continues at the vessel where initially is advisable to ensure the weather tightness of hatch covers whether by hose testing or ultrasonic tests (We hold a valid SDT certification for such purposes). In regard to cargo compartments, the same are internally inspected following specific clients directives verifying that such spaces may carry the grain without alteration of its physical properties.
When the cargo is being loaded, a regular close inspection and sampling is done following internationals rules and clients requirements as well. Cargo samples may be sent to recognized labs during the entire state of loading or at its ends if required.
Cargo out of specification or not according to the client's requirements may be subject to rejection or upgrading if possible duly informing principals on any change.
In respect of cargo quantities, bills of lading are generally issued according to shore scales, however nowadays Argentinean Customs are performing draft surveys at random on grain exportations as counter check measure and on some operations official figures are settled as per this last method. We also offer our service in draft surveying for active and joint participation with Argentinean Customs surveyors to act and defend the client contracts.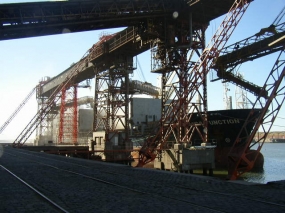 www.martinazcueta.com © 2008-2012 | Todos los derechos reservados | Website Developed by
72studio